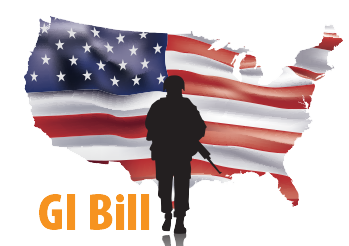 Learn How To Get GI Bill Assistance And More Benefits & Resources
GI Bill benefits help you pay for college, graduate school, and training programs. Since 1944, the GI Bill has helped qualifying Veterans and their family members get money to cover all or some of the costs for school or training.
Some of these benefits include:

✅ Unemployment benefits, grants to pay for college or technical training, and reduced financing for home, farm, or business loans.
✅ You can apply for GI Bill benefits online or in person at a VA regional office near you. You can also call 1-888-GI BILL-1 to ask the VA to mail an application directly to you.
✅ The application process is simple, especially if you do it online. The form will ask you for information about your military background, education history and the school you want to attend. It also asks for your Social Security and bank account numbers, so make sure you have those handy, too.

FREE Instant Access
Get the Free Guide, Your GI Bill Assistance & Additional Benefits
Our free guide helps by providing you with information about applying for benefits.

We Find The Benefits
You Need. Get Answers Fast. Get The Free Guide.


We Are Here to Help
Our FREE guide provides helpful information about how to apply for the benefits you need.
If you're concerned about or interested in learning about the GI Bill, you're in the right place. That's what this web site is all about.
At FindAssistanceNow.com our goal is to match you with the help you need. We help those who need benefits by matching you with the information and providers of the help and information that you need. Whether it's making sense of GI Bill or the Forever GI Bill, we match you with the resources you need.
Learn How to Get More Benefits
There is no cost for using the free guide.
What is the Post-9/11 GI Bill?
The Post-9/11 GI Bill is a generous education benefit for the latest generation of service members and veterans. It includes payment of tuition and fees, a monthly housing allowance and a stipend for textbooks and supplies for up to 36 months. The GI Bill traces its history back to World War II when the Servicemen's Readjustment Act was enacted to provide education and training, home loan guarantee and other benefits for veterans. Revamped several times to aid veterans of war and peacetime, the GI Bill as we know it was signed into law by President George W. Bush in 2008 and went into effect the following year. Portions of the GI Bill were updated again in 2017 under the Harry W. Colmery Veterans Educational Assistance Act, better known as the "Forever GI Bill."

Who is eligible for the GI Bill?
Who is eligible for the GI Bill?
If you have served on active duty for at least 90 days since Sept. 10, 2001, you are eligible for Post-9/11 GI Bill benefits — whether you're still in the military or have already separated with an honorable discharge. The amount of time you spent on active duty determines the percentage of total benefits you can receive.
Right now, the VA uses this scale to determine eligibility:
100 percent: 36 months or more, or at least 30 continuous days and discharged due to service-connected disability

90 percent: At least 30 months, less than 36 months

80 percent: At least 24 months, less than 30 months

70 percent: At least 18 months, less than 24 months

60 percent: At least 12 months, less than 18 months

50 percent: At least 6 months, less than 12 months

40 percent: At least 90 days, less than 6 months

No benefit: Less than 90 days
Don't worry about memorizing this, though, because it's about to change in August 2020 when a portion of the Forever GI Bill goes into effect. At that point, the same 90-days-to-six-month window will equal to 50 percent of total benefits. Service members with at least six months and less than 18 months of service will be eligible for 60 percent of benefits.


---