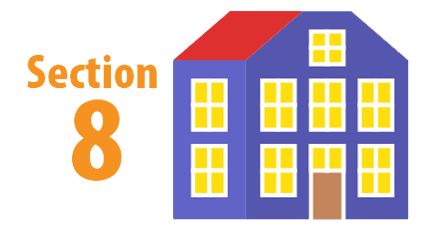 Learn How To Get Section 8 And More Benefits
The Section 8 program allows private landlords to rent apartments and homes at fair market rates to qualified low income tenants, with a rental subsidy administered by Home Forward. "Section 8" is a common name for the Housing Choice Voucher Program, funded by the U.S. Department of Housing and Urban Development. Some things you'll want to consider include:
✅ Where you want to live
✅ How much money you and your household are making
✅ Immigration status for you and everyone you'll be living with
✅ Criminal history for you and everyone you'll be living with

he first step to applying for Section 8 housing is to tell the housing authority you're interested. But, there are more people who want vouchers than there are vouchers available. Most of the time, you'll be placed on a waitlist.
FREE Instant Access
Get the Free Guide, Your Section 8 Housing Information & Additional Benefits
Our free guide helps by providing you with information about applying for benefits.

We Find The Benefits
You Need. Get Answers Fast. Get The Free Guide.

We Are Here to Help
Our FREE guide provides helpful information about how to apply for the benefits you need.

If you're interested in information about Section 8 Housing, That's what this web site is all about.
At FindAssistanceNow.com our goal is to match you with the help you need. We help those who need benefits by matching you with the information and providers of the help and information that you need. Whether it's making sense of VA Home Loans or the elligibility criteria, we match you with the resources you need.
Learn About Section 8 Housing
There is no cost for using the free guide.
Getting on a waitlist:
Get an email account. You will need an email account to apply. To create a free one, sign up for Gmail or Yahoo accounts.

Get alerts. You can sign up for services that will email you when housing authorities open waitlists. Affordable Housing Online has a website where you can see which waitlists are open. The group also has a webpage where you can sign up to get email alerts from the state you're interested in living in. Some housing authorities have their own alert systems. If you absolutely know that you only want to live in one neighborhood, find the housing authority that oversees the area and sign up with that housing authority directly.

Be flexible. Apply to as many waitlists as you can, as long as you can see yourself living in that neighborhood for at least 12 months. After a year, you can look into moving while still holding onto your voucher.

Use a dependable mailing address. If you move around a lot, or are homeless, give the housing authority the mailing address of a friend or family member who can let you know when mail arrives for you. You can also ask local churches and shelters if you can use their mailing address. If they say yes, check in with them once a week to see if they've gotten any notices from the housing authority.

Do not pay money to apply. You never have to pay to apply to a Section 8 waitlist, and there is no way to pay to move up the waitlist once you're on it. If you're asked to pay, it's more than likely a scam.

A doctor's note can speed up the wait. Some housing authorities move you up the waitlist if you or someone in your household has a disability or a health issue like asthma that is getting worse because of where you're living. If these cases apply to you, ask a doctor to write a note to the housing authority explaining how new housing will help your condition. Get and keep a copy of the note.
Steps to take while you're on a Section 8 waitlist:
Lawyers and former housing authority workers say that being on the waitlist doesn't mean you should just wait until you hear something. They shared a couple of important tips:

Take notes and photos. Keep a written record of all your communication with the housing authority. You can use your phone to take pictures of documents, emails you send or notes you take while having a phone call. Record keeping is important because there is a lot of staff turnover within housing authorities, lawyers and former employees told us.

Keep in touch. Respond to any notices you get in the mail from the housing authority over phone, email or mail so the housing authority knows you're still interested in staying on the waitlist.

Keep applying. As soon as new waitlists in your state open up, apply. Don't wait!

Join communities online. Join Section 8 groups on social media platforms. Tens of thousands of people are in the same position you are, and they have created social networks to support and help one another. Here are some of the more popular nationwide Facebook groups: Public Housing (Section 8) (Voucher Holders) HUD Tenants Group and Housing Choice Voucher (Section 8) Friends.

Be patient. It can take months or years to get approved depending on demand. Don't give up!

Keep everyone updated. Communicate with the housing authority if there are any changes in where you live, how much money you or someone in your household is making or how many people are in your household (for example, if you get married or divorced, or adopt or have a child).
The VA loan COE
In order to show a mortgage company you are VA-eligible, you'll need a Certificate of Eligibility (COE). Your lender can acquire one for you online, usually in a matter of seconds.
How to get your COE (Certificate of Eligibility)
Getting a Certificate of Eligibility (COE) is very easy in most cases. Simply have your lender order the COE through the VA's automated system. Any VA-approved lender can do this.
Alternatively, you can order your certificate yourself through the VA benefits portal.
If the online system is unable to issue your COE, you'll need to provide your DD-214 form to your lender or the VA.
Minimum service required for a VA mortgage
VA home loans are available to active-duty service members, veterans (unless dishonorably discharged), and in some cases, surviving family members.
To be eligible, you need to meet one of these service requirements:
You've served 181 days of active duty during peacetime

You've served 90 days of active duty during wartime

You've served six years in the Reserves or National Guard

Your spouse was killed in the line of duty and you have not remarried

Your eligibility for the VA home loan program never expires.




Veterans who earned their VA entitlement long ago are still using their benefit to buy homes.
---